Brooklyn PrintWorks is now accepting entries for our first Spring 2021 digital printing grant.
This is a materials, machine time, and digital print training grant with a value of $3,125 in digital printing and half day of training by experienced digital printers.
Grants will be awarded through an open call juried selection of digital images. This grant was established in order to provide deserving artists and photographers the opportunity to produce a portfolio of work at no cost. Our aim is to enrich our community by providing printing time, materials and training on the equipment to allow an artist or photographer produce a portfolio of work that they may not have been able to realize otherwise. This is an inaugural program, which we expect to offer twice a year.
Program Highlights:
This is a local grant offered to artists or photographers in the New York City area; no housing or housing grants are provided. The selected artist will be provided a digital workstation with the Adobe Suite of software and instructions on how to send tests and prints to a large format printer within a fine art printing studio. You will be provided a full roll of digital fine art paper (24" x 50 ft or 20-25 20"x24" prints) to allow you to test and finally produce a set of prints. Guidance will be provided throughout the process to allow you to achieve perfect prints.

This grant is open to artists/photographers age 18 and older working in digital printing in the New York City area. There are no restrictions on genre or subject matter. We are committed to supporting artists from diverse cultural backgrounds at all stages of their professional careers.
All digital print artists are encouraged to apply.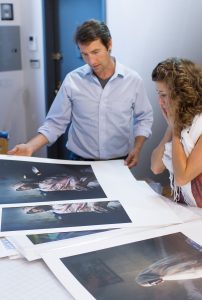 Panel:
Trevor Smith – Associate Director – Multisensory Experience Curator of the Present Tense, Peabody Essex Museum

Richard Jochum – Associate Professor of Art & Education, Teachers College Columbia University
How to Apply:
Application Deadline 5/30/2021
Application Fee$25
Application Instructions
— Name & Address
— Instagram Username (optional)
— Up to 10 Images
— List of images, size, origin
— Artist Statement & Biography (optional)
Or use the following online form:
https://brooklynprintworks.com/grant-2021-05-digital-printing/